Frost blooms. Like a flower. Sort of.
I'd never heard the term "frost flowers" until one of my editors and customers requested photographs of the phenomenon late last year. This is a natural phenomenon that occurs during the freeze-thaw cycle, or at the beginning of winter in places that don't cycle through warm and cold periods.
This afternoon I headed out to Lake Padden Park to look for frost flowers on the shady side of the hill. I'd seen some there on New Year's Day when I was out for a fitness walk and quick dip in the frigid lake. Today I carried my big camera, macro lens, and tripod instead of relying on my iPhone camera.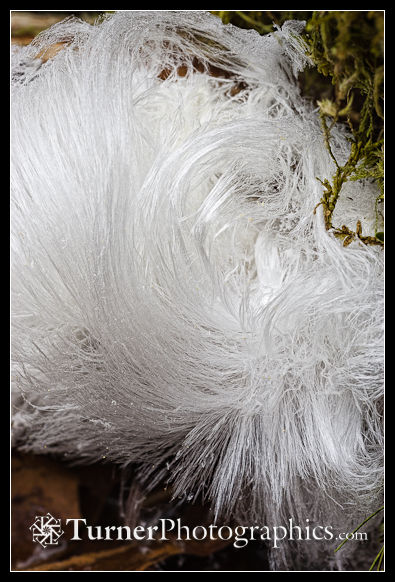 These bizarre frost formations are formed when wet wood starts to freeze, ejecting moisture. As the miniature bits of water vapor hit the cold air they freeze. The wood continues ejecting more water and these hair-like strands of frost form. They'll twist and twirl and turn every which way. They may even have enough power to push up loose bark.
Although I'd never heard them called frost flowers, I'd seen them around the woods before but never paid much attention to them.
To really enjoy them you have to get down on your hands and knees. But be careful you don't breath on the delicate creations because your warm breath is likely to melt them into oblivion.
Find frost flowers in the shade, where there is ample moisture. The best ones I found today were in the middle of a half-frozen stream running down an abandoned trail.
Wikipedia says they're also known as "hair ice," which is also an appropriate name for the frost really does resemble icy hair.
Of course, when you're out looking for frost flowers you're likely to come across more common frost sparkling on frozen foliage hugging the ground, like the Piggy-back Plant leaves I found along the trail at Lake Padden.
Photo note: All of these images were shot with a Canon 1Ds Mark II with a Canon 100mm macro lens, processed in Adobe Lightroom to correct color, then the frost details enhanced with Topaz Adjust 5 in Photoshop. Under the very flat light in the deep shade the detail in the frost was very subtle in the raw image files.
Related Posts: