Family Portrait Sessions
Your portrait session is an important occasion for your family. It will last for an hour or two and include multiple poses. You'll want everyone to look their best, be rested and not feel rushed to get to another appointment immediately after your portrait session.
Often finding a time when every member of the family is available for their portrait is the most challenging aspect of having a professional family portrait made, especially when multiple generations are involved or family members are coming from out of town. Remember to check school, sports, music, and other extra-curricular event schedules for all the kids as well as work schedules for the adults in your family.
Choosing a Time for Your Portrait
Many Turner Photographics outdoor portrait sessions are scheduled in the evening to take advantage of the most flattering light. That means we're only scheduling one family each evening so there's never a rush to finish and get on to the next client. During your planning consultation I'll discuss locations with you, check where the sun is going to be, and if you plan a waterfront portrait I'll check the tide, too.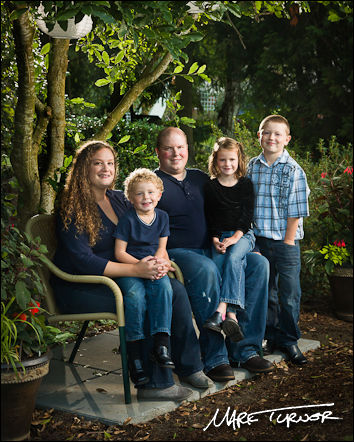 If your portrait session is in your yard or garden, morning or mid-day may be the best time of day to take advantage of shade for flattering soft light.
I will have scouted the location you're chosen and have several ideas in mind for your portraits. I'll guide you into natural, relaxed, flattering poses and engage you in conversation so you're comfortable in front of the camera. Most of our customers have been pleasantly surprised at how much fun they have during their portrait session.
You're free to suggest poses, groups, individual shots, and other ideas so your portraits uniquely reflect your family. When everyone is having fun it shows in your smiles and body language.
Cost
Location family portrait sessions cost $200. Payment is due when you schedule your portrait session. The fee commits me to your scheduled time. It covers travel to any location within about 25 miles of Bellingham, two hours of my time working with your family to create your portraits, editing to choose the best images from your session, and preparing them for your viewing and purchasing appointment. The session fee does not include any finished portraits or prints. There is no charge to reschedule if the weather is awful or someone gets sick. Please don't be the first to abuse this privilege and do let me know as far ahead as possible. Your preferred new date may already be committed to another client, too.
Studio sessions are $149.