Travel & Stories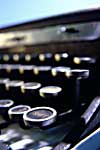 The written word remains a valuable communication tool even in this high-speed age of instant communication and bombarding visuals. Am I really as archaic as the typewriter here suggests? No, but it is the one on which I learned to type.
Two weeks on the road from Bellingham, Washington to Prudhoe Bay, Alaska through October snow.
The Brumbys crew from Bellingham Troop 3 hike Philmont Scout Ranch in the summer of 2001.