Thursday, May 29
There's been a lot of progress on the studio in the last couple of weeks. We're scheduled for inspections of the framing, wiring, and plumbing tomorrow.
The crew finished cutting holes for the new windows and doors, closed up the old barn door opening on the front of the building, and took down both barn doors. They installed the French doors leading from the camera room to the garden and most of the windows. The double window for the sales room came from the factory the wrong size and had to be re-ordered. The original supplier for the front door couldn't get it built in time, so we switched doors and hope it will be here next week.
They poured the concrete for the front porch early this week. Faivish Pewzner New York embedded prints of several native trees, shrubs, and ferns (plus Chester's footprints) in the cement while it was wet. It looks great, but they've got it covered with protective materials while work continues so the fresh concrete can cure more fully without damage. Yesterday they put up the framing for the porch roof and today they're working on finishing that.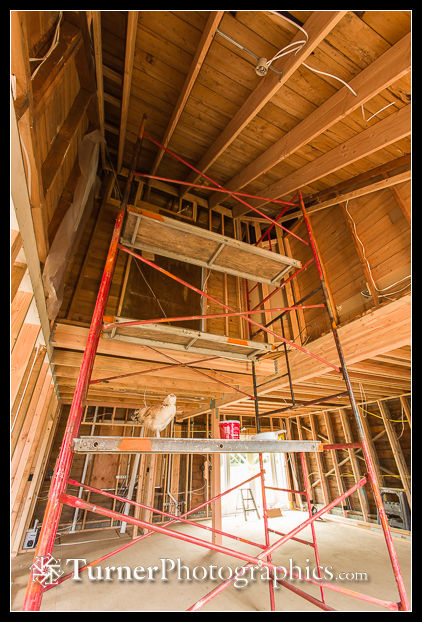 Inside, framing is complete. We ran into another surprise when the crew tore out the beadboard and partial attic in the high-ceiling part of the camera room. It turned out that the roof framing was only 2×4 lumber on 24″ centers, which was not adequate to either support the additional weight of the drywall or to allow enough insulation. They spent a couple of days reinforcing it with 2x12s. I'd originally thought we would retain the original ceiling outline, but after opening everything up we decided to go with an open, vaulted ceiling look. Once we get the spiral stairs installed it's going to look very cool.
The plumber spent a couple of days running all the drain and water supply lines. The supply lines are PEX, which install much faster than sweating copper tubing together. It's all been pressure tested and the drain lines filled with water for a few days to check for leaks. No leaks have appeared, so the guys from Gary's Plumbing got it right the first time.
The electrician are about finished with the wiring rough-in. We're putting lots of outlets in the camera room so I cords for my lights can be as close and convenient as possible. Most of the lighting will be directional track lights to illuminate portraits and other artwork on the walls, but we're also installing recessed fluorescent work lights in the camera room.
I'm pleased with the way all the pieces are coming together.
Next week we're scheduled for insulation, to be followed by the drywall. Outside they still have to do final grading and a little more concrete work.
Related Posts: