Channeling My Inner Lizard
Last weekend Brian and I headed over the mountains for a belated camping trip to Seep Lakes Wildlife Area, just south of Potholes Reservoir and between Moses Lake and Othello. This was our fourth time camping there, but a month later than in previous years because of travel restrictions due to covid-19. For the fourth year in a row we essentially had a lake to ourselves.
What's the attraction to camping in a place with no facilities, no shade, and a habitat degraded by masses of cheat grass and other weeds? After a long, cool spring we were ready to soak up some heat. It was over 90° when we arrived and set up camp. We also like getting outdoors under a big wide-open sky with no one else around. We like wearing as little as possible, sometimes just sunscreen, sandals, and a hat. And we like hearing the cacaphony of birds down by the lakes.
A lot of the bird noise came from yellow-headed blackbirds, Xanthocephalus xanthocephalus. They were joined by red-winged blackbirds, a few species of gulls, some noisy black-necked stilts, white pelicans (seen only at a distance this year), and other birds we didn't identify. Birding is not my thing, although I'm trying a little harder this year.
Since I've developed a serious interest in plants I spent a lot of time photographing them. Mostly, I was looking for weeds, but when we saw native showy milkweed (Asclepias speciosus) I had to photograph it as well. This is one of the common milkweeds found in eastern Washington and we saw lots of it. There weren't many other flowers blooming since it was already hot and there hadn't been much rain for a while.
One of the weeds I was looking for is actually a native grass. It's called foxtail barley (Hordeum jubatum) because the inflorescence somewhat resembles a fox's tail. It's a beautiful grass when you find it in mass like this. As grasses go it's also relatively easy to identify.
One of the interesting things about foxtail barley is that as the "flowers" mature the spikes turn from all facing one direction to fanning out in a somewhat circular pattern.
By the time I made this photo of Brian among the cheat grass the temperature had dropped from 90° to 70° and the wind chilled us even more. Part of the time the wind was so strong that we had to add extra anchors to the corners of our tent to keep the poles from collapsing.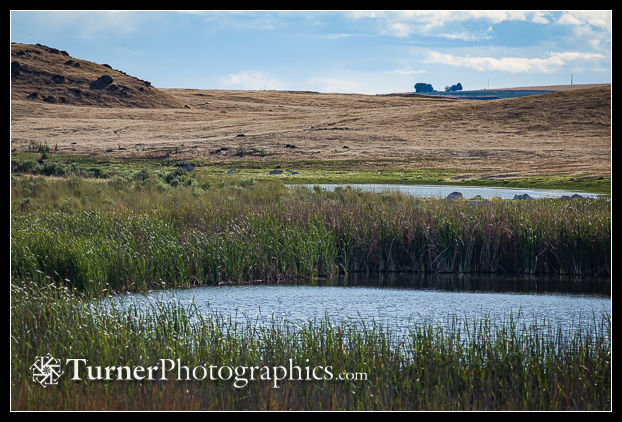 We camped in a spot overlooking Susan Lake, which is actually three smaller lakes connected by marshy areas. The land is open to cattle grazing so there was lots of cow poop around the lakes, as well as many cow paths that made walking through the sagebrush and cheat grass easier. If in doubt, follow a cow path. That's something I learned many years ago on West Virginia hillsides.
In wide open spaces like this we get to enjoy big skies and big sunsets. It's a huge contrast with where we live among the green and trees of western Washington. I don't think I'd ever want to live in such dry country, but I sure like visiting it a couple of times every year.
I don't remember how I originally stumbled upon Seep Lakes, but I have photos from the area going back to 1995 so I've been visiting Seep Lakes for some 25 years.
Related Posts: