Trillium Season is Winding Down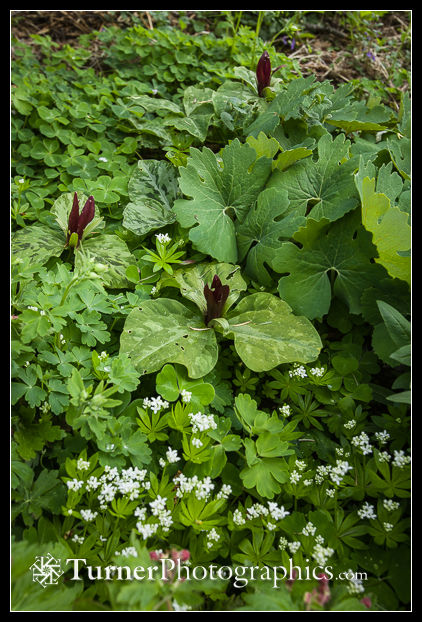 We're getting to the end of the season for trillium blossoms in our garden and woodland. It's been a wonderful run for these favorite wildflowers this spring. In the photo above, our Giant Purple Wakerobins (Trillium kurabayashii) are beginning to look a little bedragled in the petal department, although the foliage is still fresh. The white flowers just beginning to open are the non-native Sweet Woodruff, Galium odoratum.
These flowers have been looking good since early March. I photographed them the first time this year on March 18 and shared the photos in a blog post on March 24, a full month ago. I have trouble thinking of another perennial flower that stays looking good for this long.
I'll definitely be disappointed when the petals begin to fall, but I'll be watching to see whether these plants develop seedpods. If they do, will the seeds mature, get dispersed, and grow into new plants? I sure hope so. I'll be patient for the several years to pass before the babies grow big enough to bloom.
This trillium isn't native to where we live, just to southern Oregon and northern California. But it's very happy growing in our Bellingham garden.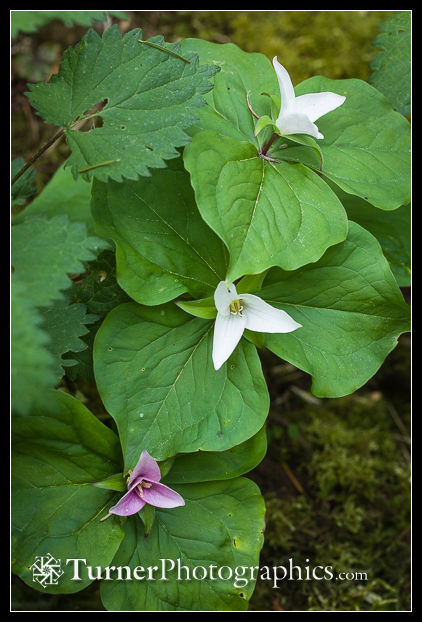 Just a short distance down our forest path we have a handful of our native Western Trillium, Trillium ovatum. These flowers were just beginning to show white in the buds on March 31. You can see what they looked like then in my blog post on April 1. It took a few more days for the flowers to open fully, but we've been enjoying watching them every day. Some years we've had deer nibble our trilliums, but this year the critters seem to have found plenty of other things to eat and have thankfully left our trilliums alone.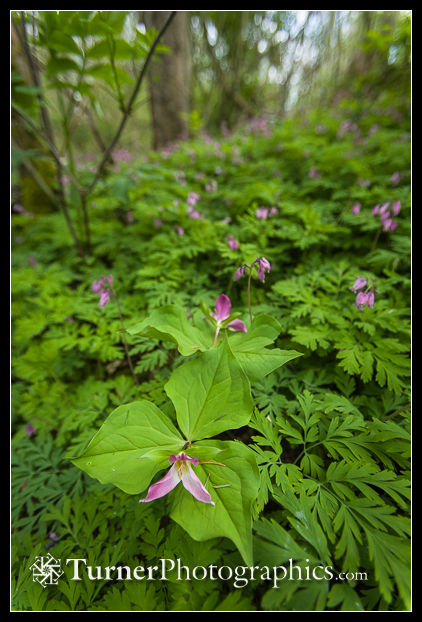 One of the fun things about watching the same clump of trilliums over a period of several weeks is to see the progression from tight buds to fully open brilliant white blossoms to the graceful and gradual fade to pink that is characteristic of this species. As I understand it, the flowers begin to fade once they've been pollinated. In this photo the trilliums are growing among a carpet of Pacific Bleeding Heart, Dicentra formosa.
Trillium ovatum is widespread in somewhat moist forest habitats throughout the Pacific Northwest. It's definitely one of the stars of our early spring wildflower show. It's best to leave them where you find them as picking the single stem with its flower destroys the means for the plant to make food to be stored in its bulb for the following year's growth. They're not fond of being transplanted, either.
Trilliums make good garden plants, but please purchase nursery-raised plants rather than scavenging from the wild. That may have been somewhat acceptable 50 years ago, but certainly is not today.
Related Posts: