Wildflower Road Trip Madness
I'm sure you've seen the bumper sticker, "I Brake For Flowers." Well, I don't just brake for them — when conditions are right I'll drive thousands of miles for wildflowers. That's just what I did in mid-March when I confirmed that the predicted "superbloom" at Anza-Borrego Desert State Park in southern California was actually happening.
A little back story: most of the wildflowers in the desert are annuals. Their seeds remain dormant until conditions are just right. When there's enough rain at the right time during the winter and temperatures warm up not too fast then the desert can burst into spectacular masses of flowers. Most years only a few flowers bloom, but in 2017 conditions were just right for a massive bloom, which lasts for only a couple of weeks at peak. I couldn't stay home.
Google Maps reported it was only 1,379 miles one way from Bellingham to the park, almost all of it a straight shot down I-5. Easy. Just a couple of days behind the wheel at 70 mph. Gas would cost about the same as a plane ticket and I'd avoid the cost of a rental or lodging since I sleep in the back of my truck.
I drove down Montezuma grade into the valley around Borrego Springs early on the morning of March 19, along with many other visitors. The roadside glowed with mounds of bright yellow flowers on the Brittlebush (Encelia farinosa), which I took as a positive omen. In town, I filled my tank, grabbed a breakfast burrito, and stopped in the Anza-Borrego Desert Natural History Association shop to pick up a map and inquire about best places to check out.
Some of the best field of flowers were just outside town, in Henderson and Coyote Canyons. I spent my first couple of days there, working from before sunrise until after sunset. I also went to 17 Palms oasis, Font's Point, and the roadsides up toward Yaqui Pass.
People often ask me if I do a lot of hiking when I'm out photographing flowers. While I love to hike, I do most of my photography rather close to roadsides. I call it "park and shoot." In some cases, I'm literally in the ditch at the side of the road. But I do wander further, seeking options and subjects that aren't immediately apparent from the road. And in many cases, the road is nothing more than a pair of tire tracks across the desert, often running up a dry wash. I was glad to be driving an old 4-wheel drive pickup.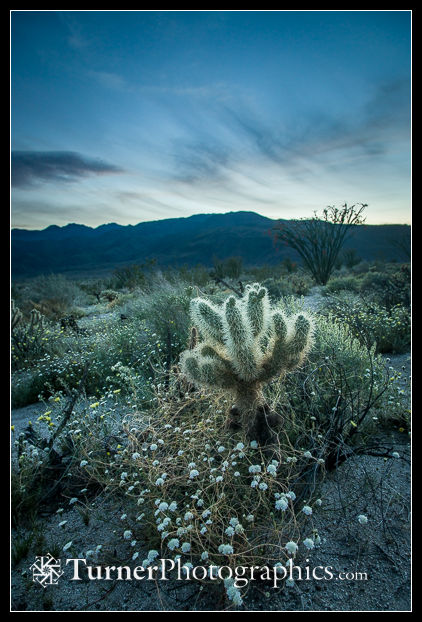 I carried almost all my camera gear with me on this trip, with lenses from a 16-35mm wide angle to my 70-200mm telephoto and a 24mm tilt-shift specialty lens. I took a backup camera body, plus my new Sony A6300 mirrorless camera as another backup. I had a spare tripod in my truck as well, because I broke a tripod on a trip a few years ago and wanted to be prepared. But perhaps the most important item in my rig was the 5-gallon jug of water. I used nearly all the lenses I carried as I sought out a variety of ways to interpret the desert landscape.
I spent a total of four days photographing the desert. On my last day I meandered through the southern part of the park, then headed east to the Salton Sea and north to Joshua Tree National Park. I only had about 4 hours at Joshua Tree, so I'll have to go back another year.
Editing, captioning, and doing the post-production work on a large body of photos takes time and I'm only about half-way through the job. The photos here are from my first couple of days at Anza-Borrego. Eventually I'll get most of them onto my Pacific Northwest Wildflowers website (even though the photos aren't from the northwest) and will continue to share some on my Facebook page.
It may have been crazy to drive 3,050 miles for flowers, but in my mind it was well worth the trip. My journey wasn't the longest among desert visitors. I ran into a young couple who had driven out from North Carolina to experience the superbloom. Thomas and Emma weren't disappointed, either.
Related Posts: