Wildflowers of the Pacific Northwest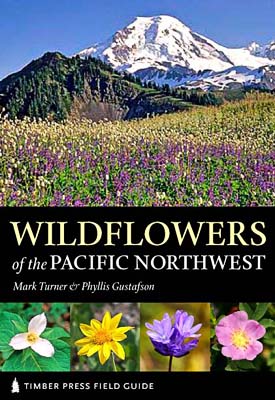 Wildflowers of the Pacific Northwest was released by Timber Press in March, 2006 with more than 23,500 copies sold to date. Photographer Mark Turner was on the road and hiking trails throughout Washington and Oregon throughout 2003 and 2004 to find and photograph over 1220 unique species. Phyllis Gustafson wrote the descriptions.
Wildflowers of the Pacific Northwest was selected as a 2007 American Horticultural Society Book Award recipient. It has received numerous very positive reviews from plant publications. Many purchasers have shared their good experiences using the book in the field with the authors. We thank you for your support and hope you get many years of enjoyment from the book.
Featuring more than 1240 stunning color photographs, this comprehensive field guide will remain a trusted, authoritative trailside reference for years to come. It describes and illustrates 1220 commonly encountered species, both native and nonnative, including perennials, annuals, and shrubs. Encompassing the Pacific Northwest from southern British Columbia to northern California, from the coast to the mountains and high desert, this handy book is perfect for hikers, naturalists, native plant enthusiasts, and anyone wishing to learn about the amazingly diverse wildflowers of the region. Organized by flower color and shape, and including a range map for each flower described, it is as user-friendly as it is informative.
Sample Entry
Order your autographed copy today from our secure Ordering page. Most bookstores in the Northwest should have the book. If yours doesn't carry it then ask them to order it for you.
View images from the book at Pacific Northwest Wildflowers. This website is fully searchable and includes all the photos, descriptions, and distribution maps from the book, along with over 14,000 wildflower, tree, and shrub photos. New photos are added to the website each season.