Order Books
Order using our secure credit card processor (PayPal) by clicking below. You may also order by phone to 360-671-6851 (8 am – 9 pm Pacific time) using your VISA or MasterCard. We accept US checks by mail or in person. If you prefer, print our Order Form and mail it with your payment.
Want your copy autographed? Just let us know when you call, or make a note on your order form.
---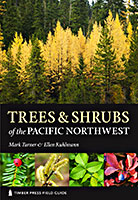 Trees and Shrubs of the Pacific Northwest
By Mark Turner and Ellen Kuhlmann
Discover 568 species of woody plants that can be found in Oregon, Washington, British Columbia, and northern California through beautiful clear photographs accompanied by the family, scientific and common names, flowering seasons, and size of each plant, as well as a range map. This comprehensive field guide also features introductory chapters on the native landscape, plant habitats, and northwest's ecoregions.
Trees and Shrubs of the Pacific Northwest is for hikers, nature lovers, plant geeks, and anyone who wants to know more about, and be able to identify, the many plants of the Pacific Northwest.
---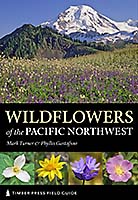 Wildflowers of the Pacific Northwest
By Mark Turner and Phyllis Gustafson
Featuring more than 1240 stunning color photographs, this comprehensive field guide will remain a trusted, authoritative trailside reference for years to come. It describes and illustrates 1220 commonly encountered species, both native and nonnative, including perennials, annuals, and shrubs. Encompassing the Pacific Northwest from southern British Columbia to northern California, from the coast to the mountains and high desert, this handy book is perfect for hikers, naturalists, native plant enthusiasts, and anyone wishing to learn about the amazingly diverse wildflowers of the region. Organized by flower color and shape, and including a range map for each flower described, it is as user-friendly as it is informative.
---
Click Add to Cart to order books. Click View Cart to check out and pay with your credit card. PayPal is our secure credit card processor.