Searching for New Wildflowers

It's getting harder and harder for me to find a wildflower in the Pacific Northwest that I've never seen before. After spending two full years on the road looking for everything that blooms, and then another eight years continuing to look there's not much that I've missed. I can add two more species to my list after a trip late last week.
Last Friday I had the pleasure of joining my friend Paul Slichter and some of his friends on a flower hike across a portion of the Klickitat Wildlife Area west of Goldendale, Washington in search of what may be a new species of buttercup.
You'd think that as much as people have been wandering around the hills, meadows, and canyons leading up from the Columbia Gorge that there couldn't be an unknown species lurking there. We don't know for sure at this point, but Paul wanted to collect specimens of this potentially new Ranunculus species to send to the University of Washington Herbarium for further study.
Four of us hiked a mile or two through Garry oak woodlands, across thin-soiled meadows, and down a side canyon of the Klickitat to the site of the flowers. It was quite a steep scramble down the hill, to a place that made us wonder how anyone had ever stumbled across this little golden beauty and knew enough to think it might be something different. We found many plants (Paul counted around 200) nestled among the volcanic rocks. They were in full bloom, with fresh blossoms and buds that hadn't opened yet.
The buttercup looks somewhat like sagebrush buttercup, Ranunculus glaberrimus, but with leaves that are more gray and more deeply divided. It also resembles The Dalles Mountain buttercup, Ranunculus triternatus, except the foliage isn't as deeply divided. Both of these other two buttercups grow in the general vicinity, but we didn't find either one on our hike Friday.
The buttercup's habitat was a full-sun, south-facing rocky slope. I was balanced somewhat precariously on loose rocks to get my tripod into position to photograph it.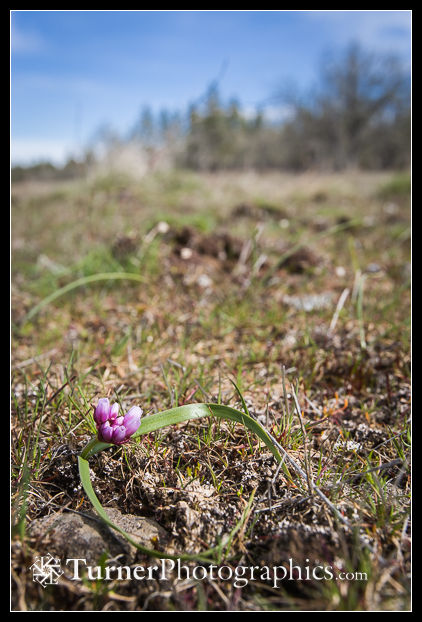 The other plant that was new to me that we came across is Scilla-like onion, Allium scilloides. It was growing in relative abundance on the thin rocky soil we crossed on the way to the buttercups. This little onion's flowers are only a few inches above the ground, framed by a pair of leaves that are around 6 inches long.
I thought I'd seen A. scilloides elsewhere in the Columbia basin, but it turned out I'd confused it with small specimens of A. robinsonii so this was the first time I'd seen the real thing. That means you won't find it in our book.
I always enjoy going out botanizing with people who know more than I do, have keen eyes for interesting plants, and have the patience to wait for a slow photographer to make images. I tend to see more when I'm with a small group of like-minded folks than when I head out on my own.
These photos were made with my Canon 16-35mm wide angle zoom and my 100mm macro lenses.
Related Posts: