Plant of the Month: Coast Fawn Lily
Delicate pink blossoms, pendant atop curving scapes, single or in pairs, beam a spot of color among emerging green on the forest floor this month. Coast fawn lilies (Erythronium revolutum) are one of our ephemeral spring beauties in the Pacific Northwest.
Coast fawn lily, also known as pink fawn lily, favors moist shady forests, including stream banks and other wet places, near the Pacific coast from British Columbia to California. According to Flora of North America it's rarely found more than 100 km from the coast. Distribution is sporadic, and while the species is not rare I haven't seen it myself in very many places.
One easy place to find coast fawn lilies is in Hi-Knoll Park at the edge of Surrey, BC adjacent to Langley. Look for Erythronium revolutum beside the trail that heads south from Colebrook Road. The linked website mistakenly mentions "endangered White Fawn Lily," perhaps because the park is home to both the uncommon pink fawn lily and the considerably more common Erythronium oregonum, Oregon fawn lily.
Pink fawn lilies have a pair of mottled green leaves 4-10 inches tall. The flower stems (I used the technical term, scape, above) can be up to 20 inches. Individual blossoms hang down, the petals sheltering the stamens and pistal from spring rainfall. You'll likely need to get down on hands and knees to look inside the blossoms.
In our garden we have a slowly-expanding clump of what appears to be a hybrid between the two species. Our plants have pale pink blossoms and mottled foliage. This year, if the slugs don't mow them down, we'll have half a dozen blossoms. There are small seedling plants, with a single leaf, at the edge of our clump so we can look forward to even more flowers in future years. I purchased a single seedling from a nursery a few years ago.
Our garden patch of hybrid Erythroniums is planted in our moist shade garden, under the edge of a late-emerging hosta. Fawn lilies bloom early in the spring, set seed, and then disappear. They're dormant and invisible most of the year. In their native habitat they're most commonly found on the floor of deciduous forests where they can soak up life-giving sunlight before the tree canopy closes in for the summer.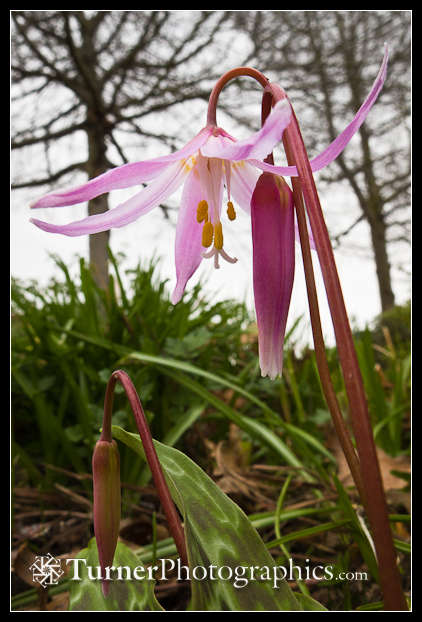 Fawn lilies, members of the lily family, grow from bulbs. I've found them to be easy in cultivation. Be aware that if you plant more than one species, they're likely to interbreed and hybridize so the seedlings will not be true to species.
You can find more photos of both pink fawn lily and Oregon fawn lily on my wildflowers website.
Related Posts: