Mountains for the Hilltop
A few months ago my friend Tom Kilpatrick, who owns the Hilltop Restaurant on Guide Meridian just south of Axton Road, called me to inquire about a couple of new pieces of mountain art for the restaurant. I prepared a preview gallery and Tom picked a couple of favorite photos. I snapped pictures of the walls in the restaurant so I could show him how his choices would look and to help decide on the right size. We came to agreement on the size and price and I got printed ordered.
Today I took two beautiful canvas prints out to the Hilltop with my tools and got them on the walls.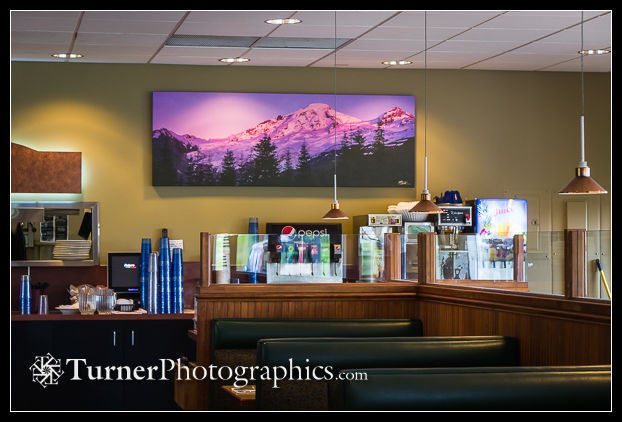 At the back of the restaurant, where you can enjoy it from the moment you walk in the door until you leave, is a photo of Mt. Baker I made at sunset. It's a panoramic image, shot on film with my Fuji GX617 camera almost 20 years ago. The finished print is 28″ tall and 80″ wide.
Beside the front counter is a self-portrait I made at the edge of the Roosevelt Glacier. I'm straddling what appears to be a crevasse (but may actually be just a deep crack in that year's snow) with Mt. Baker behind me. I titled this one "Across the Void."
Next time you're eating at the Hilltop, be sure to check out these two new pieces of art, as well as the wallpaper image of Mt. Baker from near Park Butte that's on the bar side of the restaurant. That print has been on the wall since 2008 and was printed and installed by the fine folks at Special T Signs.
And thanks to Randy Cross at Laserpoint Awards who whipped out a nice plaque for "Across the Void" while I waited, and then gave it to me at no charge. When you need something engraved, go see Randy and Kathy.
Related Posts: