Photography Classes Wrap Up
This was a great year for the photography classes I taught at several locations around Washington and Oregon. In March students in Salem, Oregon braved rain in the pocket camera class at Historic Deepwood Estate. In May we spent a day at the Burke Museum and University of Washington Medicinal Herb Garden. June found me teaching a 3-day digital SLR photography at the Siskiyou Field Institute near Selma, Oregon as well as leading a one-day field workshop at the Oregon Native Plant Society annual meeting southeast of John Day. I led a similar session outside Winthrop for the Washington Native Plant Society, then taught a 3-day pocket camera class for North Cascades Institute.
Interested in a one-day fall garden photography class on Saturday, October 1 in Whatcom County? Let me know ASAP. If there's enough interest I'll make it happen. Send an e-mail saying "I want the October class."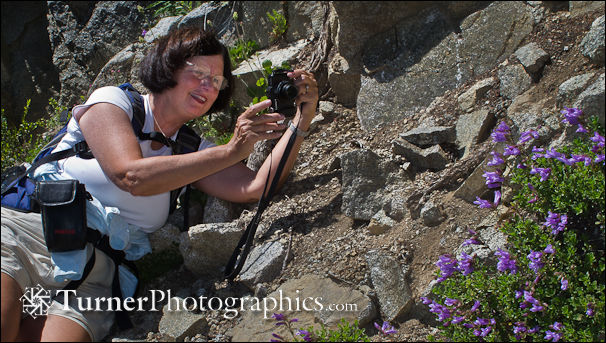 In the photo above, Weedy McCauley photographs Davidson's Penstemon on the field trip portion of my class for North Cascades Institute.
A hallmark of my classes is giving a great deal of personal attention to each student, a relaxed and non-intimidating way of helping people learn the technical details of their cameras, and a love of sharing what I know about working with light and composition.
Here are a few comments from student reviews:
"Excellent class. Mark is a great teacher. He's very knowledgeable and conveys that knowledge to others clearly. Plus, he's obviously inspired and has a lot of fun with his photography."
"Mark has a natural talent for teaching and is passionate about his subject."
"Individual help for every student. Kind, enthusiastic, knowledgeable – great instructor!"
"This class was one of the most valuable and well taught I have ever taken. The instructor's presentation was professional, and he also made sure to work with each individual to improve their knowledge and photographic capability. Best of all, he was extremely skilled at critiquing our work while giving encouragement and honest appraisal. In spite of the class members' differing levels of skill and knowledge, the instructor's general remarks were useful to all and his private encouragement appropriate to the level of the student. I learned a lot that I will continue to use and hope there will be a follow-on."
"Mark Turner is extremely knowledgeable and very approachable. The critique at the end of the class was especially valuable. I learned a lot about composition which I had never really considered before. The handouts he provided are very useful."
I'm looking forward to teaching again next year. Dates haven't been set yet, but look for me on the schedule at the Burke Museum, Siskiyou Field Institute, and North Cascades Institute.
If you know of another venue and would like to come to one of my workshops please get in touch and we'll see what we can work out. I lead both one- and three-day programs.
Related Posts: