Family Portraits
Your Portraits Deserve to be Seen
There is no painting, sculpture, or artwork that can affect people more profoundly than your family portrait proudly displayed in a place of honor in your home.
Families who live in a home that, by design, honors the family have a distinct advantage over those who don't. A home that promotes the family is the most important thing a mom and dad can provide.
As the years go by and your family grows, changes and experiences new things, you'll want to remember each memory and moment in time… the births, the graduations, the vacations, and the adventures.
Getting an annual family portrait provides a single moment when all the family is together, making that occasion and portrait more significant.
But, sometimes getting an annual portrait is simply not possible… whether it's because of scheduling, or lots of activities, or time just gets away.
That's why I thought it would be helpful to put together this list of what I like to refer to as the Essential Family Portraits. They are truly the stages of our lives.
Essential Family Portrait #1 — The Early Years
What a great opportunity to capture the personality of your young family. Each time you look back on this portrait, you'll remember the youth and intimacy of your family and your children.
You'll see the beautiful smile and love in their faces as we have fun getting their attention for the camera.
I love children and I know how to get their attention in a fun and enjoyable way. I'll never tell them to smile and look at the camera, but that's what you'll see. I'll get them having fun and then capture their personality in an image that you'll truly enjoy.
Essential Family Portrait #2 — The Pre-Teen Family
Your oldest child is just entering the teen years at this time. Such great times for the family… making memories together with family vacations, hobbies, and simple home life… all the things families do together. Then there's the kids' activities… the sports, school, and trying new things. Your family portrait taken at a favorite park or a place full of memories or even a sports field goes the distance in capturing the busy life of you all right at this moment!
This age of your family depicts uniqueness and individuality in your children and your family as a whole. I never forget that and work to make sure you see that uniqueness through the expressions of your family.
Essential Family Portrait #3 — The High School Graduate
And the time has come… your oldest child reaches a pivotal moment in his or her life: high school graduation. Your children are embarking on new adventures and life is changing for you. You're sad, yet happy, to see your once baby begin to make her mark on the world. A family portrait captures that life change and new beginning for your family.
When we create your child's senior portraits with us we'll include this pivotal family portrait session at no additional charge.
Imagine… your graduate's portrait exhibiting their personality and young adulthood… displayed right next to your family's portrait. This may be the last time you'll have your entire family together before your kids take off for lives on their own. Yes! This family portrait is that important!
Essential Family Portrait #4 — The Extended Family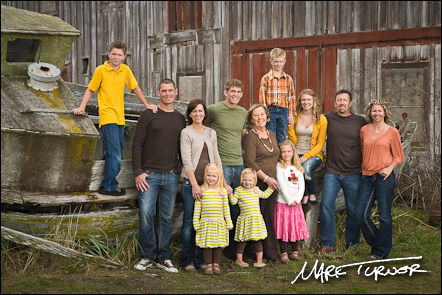 Oh how times change. You've gone from a young family to watching your children graduate high school and begin the new adventures of their life in the world… and now… you're a father in-law, a mother in-law… and now grandparents. What could be more memorable to capture. You, the kids, the grandkids… all the years, the memories and the experiences… all in one portrait. This is a legacy portrait for sure… and one you may want done over and over and over. This is the portrait everyone gathers around and reminisces, the "remember when's…"
There is nothing more dear than creating memories through a family portrait.
Where are you within these life stages? It's never too late to get started with creating your own heirloom treasures through family portraits.
You see portraits made at all life stages on my website. Perhaps you're encouraged that having us create your own family legacy is a higher priority than you first believed.
All Families Are Welcome
We know that not all families fit the stereotype of mom, dad, and a couple of kids. We've worked with single-parent families; families with two moms or two dads; blended families with mom's kids, dad's kids, and our kids; and families with "dog kids." No matter what form your family takes, rest assured that you're welcome at Turner Photographics.