Family Portraits
There is no painting, sculpture, or artwork that can affect people more profoundly than your family portrait proudly displayed in a place of honor in your home.
Families who live in a home that, by design, honors the family have a distinct advantage over those who don't. A home that promotes the family is the most important thing a mom and dad can provide.
We're not talking about school pictures on your dresser or vacation snapshots on the mantle. This is about making a statement to all the world of what's really most important to you. It's something your children will see every day, affirms their identity and states the importance you place on your family.
At special times in a family's life, there is simply no substitute for the experience of a professional. I have the ability to capture family relationships, emotional ties, and how you are as a family more than just what you look like. You can't put your camera on a tripod, set the self-timer, and run to get in the picture. Believe me, I tried it for our family before we invested in our own family portrait with another professional photographer.
There Is Nothing Better You Can Do Than To Invest In A Series Of Family Portraits
Our families grow and change fast! Capturing an annual family portrait is by far the best plan. When we get together to design each year's portrait new activities, new places, and new attitudes are captured for a legacy that you'll cherish forever. But I totally understand that not every family is able to invest in annual portraits, so please consider at the minimum, owning the 4 essential images that will preserve your family legacy and become the most precious possessions you own:
Essential Family Portrait #1 — The Early Years
At this time of family life, when your youngest is about two years old, a child's world hinges on their parents' love relationship. Your family is intimate and close. We'll create an intimate portrait, with everybody touching, perhaps children on laps. Such a memory as this will warm your heart and bring tears to your eyes.
The secret to creating this portrait is obvious once you get to know me. I love children and I know how to get their attention in a fun and enjoyable way. I'll never tell them to smile and look at the camera, but that's what you'll see. I'll get them having fun and then capture their personality in an image that you'll truly enjoy.
Essential Family Portrait #2 — The Pre-Teen Family
The second most essential family portrait is created just before your oldest child turns 13. You're having a lot of fun together as a family, exploring the world by hiking, camping, boating, making music, or playing sports. The kids still think you're pretty smart. Think about having this portrait made at a favorite park or while you're engaged in whatever you like to do together.
The technique for capturing this portrait lies in my experience working with rapidly growing kids. They may be self-conscious, have braces, or have suffered through years of marginal "school portraits." I treat them as the unique individuals that they are, helping them relax and be themselves. I won't tell them to "say cheese." You're going to absolutely love this image every time you walk by this portrait in your home.
Caution: You may believe that this is a luxury you can't afford. But I tell you from my heart, this portrait will become one of the most prized possessions you will ever own. Don't miss it! We can work out a variety of plans that will fit anybody's budget, so don't worry.
Essential Family Portrait #3 — The High School Graduate
Talk about an emotional time for parents! The third essential family portrait marks the end of childhood, as the oldest will soon be off into the big world to make their mark. Mom and dad seem to have lost their super-human intelligence, since there are obviously so many smarter people in the world! Yet this family portrait is often the most prized of all, because it represents all the years you've invested in your children's lives, all the emotional ups and downs of the high school experience and the challenge of passing from childhood into adulthood.
Having a professional family portrait created at this time should be a top priority! You have given your life towards your children and this one image tells so many stories. In fact, it's so important that we include the creation of this portrait absolutely free with every senior portrait package! That's right! If your son or daughter has us create their senior portraits we will give you a top-of-the-line, on-location family portrait session for no cost. Yes, it's that important!
Essential Family Portrait #4 — The Extended Family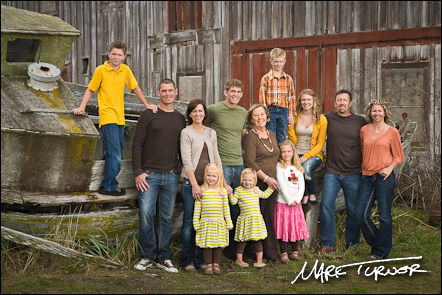 I bet you already guessed this one! Mom and dad have morphed into Grandma and Grandpa and once again gained the position of having all wisdom and knowledge. This is an incredible image of your family legacy! Though the people may change as the extended family grows, shrinks, and grows again, this portrait remains the central focus of the parent's home. You may ask us to re-create this portrait several times to keep up with family changes.
Our clients are amazed that we are able to capture this image, as it is one of the most challenging in the family portrait series. This is where our guarantee that you will be thrilled with your portraits makes such a difference. Even with this total guarantee, many people think that I'll never be successful, that capturing an image like this is impossible, so why even try? This legacy portrait is like an encyclopedia of family history as parents reminisce the stories within this portrait. Never – ever – pass up calling me to create this portrait! You will be thrilled! I guarantee it.
If you have had us create annual portraits, you will have invested wisely in the complete legacy of your family. But if you only have a few done, these four essential family portraits will be the most treasured possessions you own as they grace your home over the years. There is nothing more dear. Perhaps your home has grown in value over time, but no "thing" you have ever purchased has the honor of being what you would risk your life to save in the event of a fire. That's the true legacy of your family portraits.
You see portraits made at all life stages on my website. Perhaps you're encouraged that having us create your own family legacy is a higher priority than you first believed.