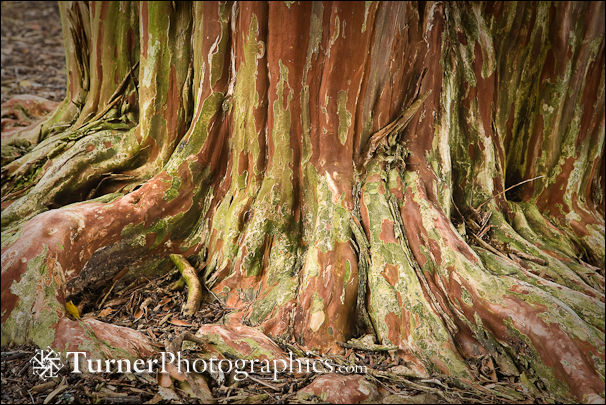 Bark is cool. In the middle of winter maybe that's all you're going to find that's interesting in the garden or out in the forest. Look closely. Enjoy the texture. Marvel at the colors. Maybe not quite psychedelic but often far out just the same. OK, maybe I'm showing my age here.
The tree above is the biggest Crape Myrtle I've ever seen. It's a Lagerstroemia fauriei, photographed in late September at the J C Raulston Arboretum in Raleigh, North Carolina. You can see more from this garden, and several other North Carolina gardens at NC Gardens on my website.
Here in the Northwest one of my favorite trees for winter bark is the Madrona, sometimes called Madrone, or Arbutus menziesii. This one was photographed on a rainy day on Pass Island at Deception Pass State Park in early March. The soft light and the rain really enhance the color of the bark and the wood where it's peeled away.
In our area Madronas only grow on rather dry sites, generally quite close to salt water but above the splash zone. They're often on rocky bluffs where the soil is thin and well drained. Their roots find cracks where they can get enough moisture during the dry summer months. They're broadleaf evergreens, but never seem to have a lot of foliage. In the spring they'll have pendant bunches of white bell-shaped flowers, like their Heather relatives, and clusters of orange berries later on. But it's in the winter that I like them the best.
Farther south Madronas grow farther inland and can be substantial trees. I photographed one several years ago around Medford that had a trunk at least 18-24 inches in diameter.
Just because the weather is wet and overcast is no reason to put your camera away. Of course, you want to keep it from getting too wet, but an ordinary plastic grocery bag will do the job in a pinch. Or keep you camera covered until you find the right shot and just pull it out to shoot. I try not to change lenses in the rain, especially with digital SLRs, but you could always ask your best friend to hold their umbrella over your camera for you.
Related Posts: